You are invited to register for our Vaping/E-cigarettes : Get the Facts webinar, taking place on November 22nd 11am-12.30 pm (Dublin Time)
The number of people who vape has increased significantly in Ireland in recent years. Data focused on 16 year olds, found 1-in-5 were using E-cigarettes in 2019 which is double what it was in 2015. More up-to-date Irish data is due to be published early next year. Based on these recent trends, we expect this will confirm a further increase in E-cigarette use among children and young people in Ireland. Adults' usage has increased from just 3% in 2016 to 6% in 2022.
This is concerning as the longer-term health effects of vaping are uncertain at this time. During this webinar you will hear from experts about this important and emerging issue.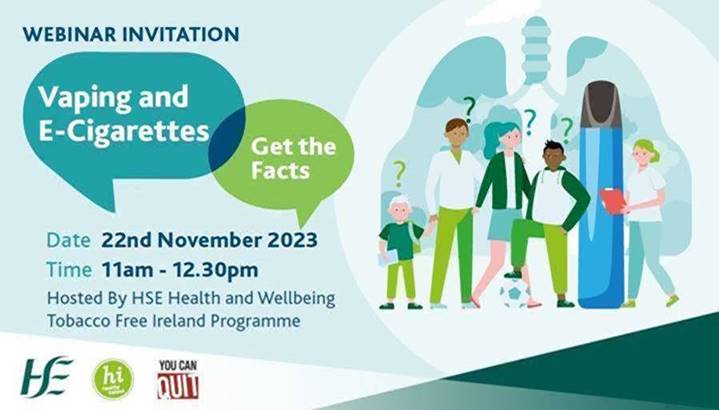 Get the Facts on:
Trends in smoking and vaping among adults, children and young people
A HRB assessment of the Benefits and Risks of harm caused by vaping
Regulating to better protect people from the harms of vaping
The environmental impact of vaping
Support for parents, guardians and teachers to protect children and young people from the harms of vaping
We will also hear from young people who vape, why they started and how difficult it is to stop.
Martina Blake
National Lead Tobacco Free Ireland Programme